Optimum Training Systems is dedicated to helping you reach your body's fastest rate of muscle growth and strength increase.
We are not focused on top speed, instead we are obsessed with acceleration. What do I mean by that? Any professional bodybuilder or power lifter can tell you what they did to get where they are now. And if they are at the top of their game, they have credibility. You should listen to what they have to say. They obviously know how to get to that top speed.
But this is often missing the time component. How long did it take to get to that top speed? In my opinion, that's one of the most important questions you can ask. This is how you find out if a given training system is the most efficient way to get where you want to go (while minimizing injury potential).
For over 30 years I've been experimenting with and improving my training system to maximize your time and energy in the gym. I like lifting, but I hate wasting effort in the gym. You should adopt the same mindset. How can I get the most out of every workout, and achieve my maximum rate of muscle growth and strength increase.
If this sounds good to you, I want you to subscribe to my newsletter by entering your name and email address below. You'll start receiving world class training advice from myself and other top industry leaders. Stuff that's going to help you meet and hopefully exceed your training goals. So let's get started.
Regards,



Leo Costa, Jr.
---
Get the Serious Growth Newsletter
Enter your name and email address below to receive vital training and nutrition advice, and be the first to know about new podcasts and articles.
---
My Best Selling Training Manuals:
Big Beyond Belief
---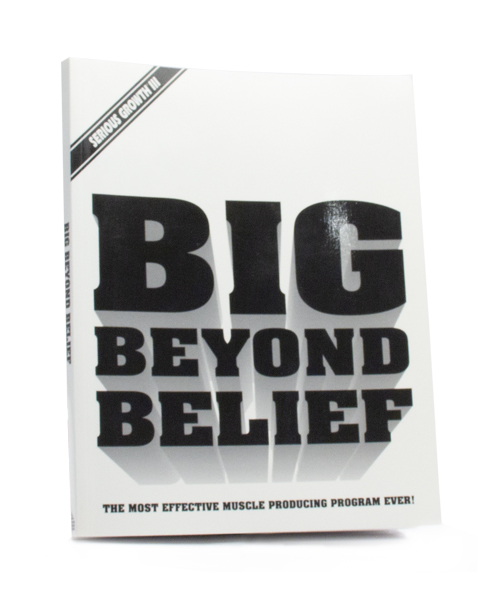 A bold title? Yes, but ask anyone who has "honestly" used this program as described and they won't disagree. Fact is, most people aren't willing to work hard enough to get the results... Read More
---
Reviews:
"I could literally feel my body growing..."
"I could literally feel my body growing. I started out at a measly 140 pounds with 14 1/2" arms. Now I'm 175 pounds with 17 1/2" arms and growing. My bench press went from 160 pounds max to 325 pounds and I achieved this on the modified version of the program. Thanks Leo!"
-- Peter Giardini, New Rochelle, NY
"I feel powerful and I am in the best shape of my life."
"I'm writing only to tell you how grateful I am for your help in reaching my bodybuilding goals. Perhaps I can express my thanks to you most adequately in explaining what your techniques have helped me accomplish. I have gained 75 pounds. My body fat has not gone above 12 percent, and most of the time is just slightly above 10 percent. I have added 165 pounds to my bench press and 200 pounds to my squats. I have added 4 inches to my thighs, all this while adding only 2 inches to my waist. My clothes are busting at the seams..."
-- Conor Kelly, St. Johns, NFLD, Canada
"In 12 weeks I put on 17.5 lbs of lean mass..."
"I had never made gains in size or strength such as with your system. In 12 weeks, I put on 17.5 lbs. of lean mass and lost 7.5 lbs. of body fat. This would have amazed me at age 20 and seems unbelievable at age 59. I will inform you of further progress, which I appreciate."
-- Dr. Richard Fladland D.C., Milwaukee, WI
"I was about to give up bodybuilding..."
"I can really depend on you guys. I was about to give up body building, but I gazed through a magazine one last time, I found your manual ad, and it went up from there. Wow, I can go get the job done in the gym in a shorter time, with no question"
-- Matthew O'Grady, Springfield
"Blew my mind"
"In the last nine months I've added at least a hundred pounds to my squat, seventy odd pounds to my bench, and 20 plus pounds to a number of other movements. And it gets better with every trip to the gym."
-- David Harper, Stone Mountain, GA