Titan Training:
---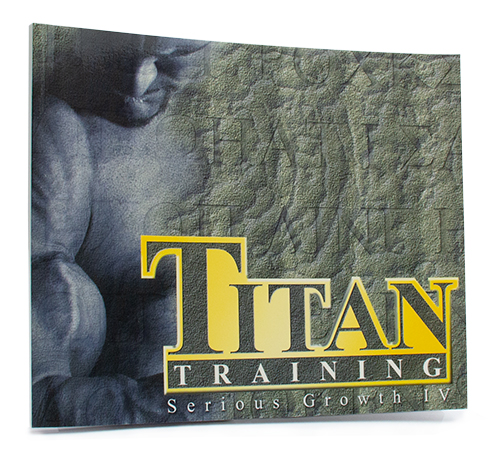 In titan training, we added a few new concepts that bring the lifter closer to their Maximum Physiological Rate of muscle growth (where you want to be for max gains in minimum time). Those concepts included reducing training days from 6 days to 4 days. And compressing the 3 week micro-periodization schedule developed by the Bulgarians into each 7 day training cycle.
To achieve those improvements we developed 3 new strategies. First we developed the idea of muscle-rounds (a radical shift in the way reps and sets are structured). Then we added the concept of "Base Training" where we literally turned the pyramid training model on its head focusing on the base of the pyramid instead of the top. Then we layered on "Volume Training" something savvy lifters may already be doing but not in the most strategic way.
Together with the core concepts from our earlier training manuals (the basic principle are and always will be the same) we have been able to get lifters closer to their Maximum Physiological Rate of muscle growth faster, more predictably, and keep them their longer without entering into over training.
The result is faster growth and more sustained growth.
Buy Now
Praise for Titan Training:
"I feel powerful and I am in the best shape of my life."
"I'm writing only to tell you how grateful I am for your help in reaching my bodybuilding goals. Perhaps I can express my thanks to you most adequately in explaining what your techniques have helped me accomplish. I have gained 75 pounds. My body fat has not gone above 12 percent, and most of the time is just slightly above 10 percent. I have added 165 pounds to my bench press and 200 pounds to my squats. I have added 4 inches to my thighs, all this while adding only 2 inches to my waist. My clothes are busting at the seams..."
-- Conor Kelly, St. Johns, NFLD, Canada
"I could literally feel my body growing..."
"I could literally feel my body growing. I started out at a measly 140 pounds with 14 1/2" arms. Now I'm 175 pounds with 17 1/2" arms and growing. My bench press went from 160 pounds max to 325 pounds and I achieved this on the modified version of the program. Thanks Leo!"
-- Peter Giardini, New Rochelle, NY
"It's Absolutlely Brilliant!"
"I used to believe that I was a "Hard-Gainer." Boy was I brainwashed by a self-protective supplement market. I have put on over 20 pounds in only 13 weeks. That's more than in the last two years total. I would say, if you don't want to try this system, you don't want to grow."
-- Dale Gilbert, Brantford, Ontario Canada
"Every week I see the difference..."
"Your program is the best for building muscle, and makes the magazines look like idiots for what they write. Every week I see the difference from what you have come up with in this awesome system."
-- Frederick Schwab, Brunswick, ME
"Thanks for the help..."
"In 14 years of training, I was always referred to as a natural lightweight of 154-165 lbs. in bodybuilding, powerlifting, and Olympic lifting with an off season weight of 171 lbs. and 13% body fat. Since starting with the Serious Growth System I carry an off season weight of 184 at 11% body fat, I fully expect to cut up for my contest this summer at the Middleweight limit of 176 lbs."
-- Gary Anthony, Cleburne, TX